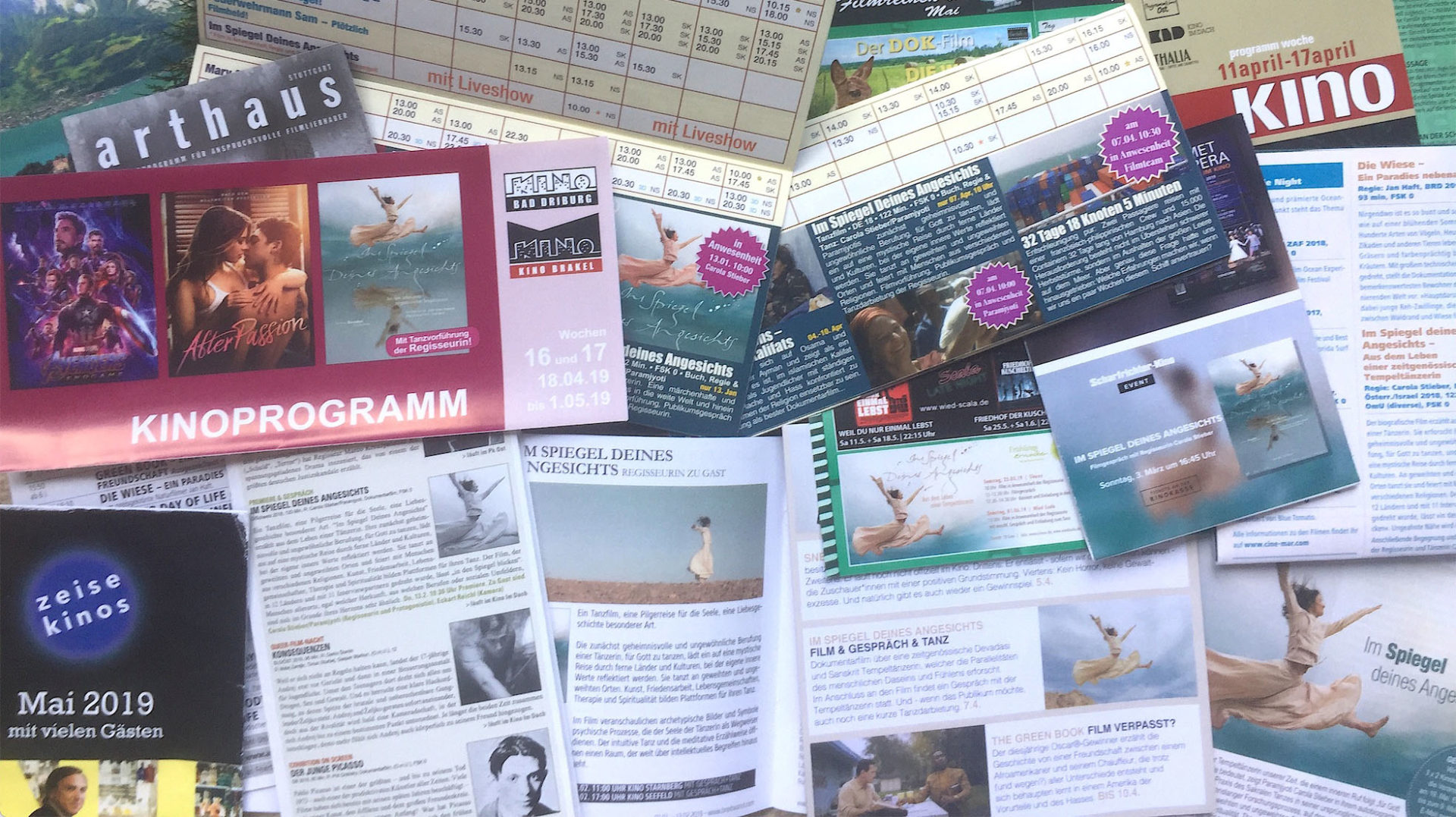 2020
The highlights of this year are so far the nomination of our film for Cosmic Cine Film Festival and the public award in Tattva Viveka Online Symposium!
Last year we toured with nearly 90 events during the first half of the year through the German Arthouse Cinema Sceene. The first half of this year, most of our tour has been canceled due to Corona Virus regulations. Even more so we are filled with joy to see, how "Moving into the Infinite" finds its own unique way all by itself even just via DVD and VOD. It moves, from heart to heart and community to community.
17.-26.04.
Tattva Viveka
Interview with Paramjyoti
Online Symposium by Tattva Viveka. The magazin for Art, Science and Spirituality interviews Paramjyoti, Title of the Interview: The most intimate of all relationships. German language. Free of cost. For detailed programm please visit: gesellschaft-und-spiritualitaet.de
22.- 26.04.
Our Film Festival Premiere!!!
Cosmic Cine Film Festival
We are nominated to be part of COSMIC CINE FILM FESTIVAL !
Instead of meeting on the red carpet in Mathäser Film Palast, Munich, we gather ONLINE! Come join this speacial and dear opportunity! Visit our film. You may want to vote for it!? Come and celebrate with us!
Screening will be in German. pantaray.tv, cosmic-cine.com
27.04.
Tattva Viveka
Interview with Paramjyoti
Surprise! Today all Interviews from the Online Symposium by Tattva Viveka – the magazin for Art, Science and Spirituality – will be available once more for 24 hours for all those, who register. Screening is free of cost. Title of the interview with Paramjyoti: The most intimate of all relationships. German language. For detailed programm please visit: gesellschaft-und-spiritualitaet.de
We won Tattva Viveka audience award for our film screening, which was accompagnied with the interview. Both received very beautiful feedback from people. What a joy 🙂
The Sacred Dance Guild is a nonprofit organisation, based in Canada and the US. Their aim is to make sacred dance accessable to a broad audience. Over several weeks legends within the world of sacred dance are going to be interviewed. It is a great honor for us, that besides Anna Halprin and other truely meaningful personalities in dance, Paramjyoti is going to be invited for a public interview, along with all of those people who definitly had no chance but to dedicate their lifes to dance.
"Five important questions" are asked to all the interviewees. A broad horizon of similar, yet different approches is being opened up. A pool of inspiration, rejuvenation and network is being opened up for us.
At the end of the interview, you are invited to ask questions. Welcome to our online live event!
Info: Sacred Dance Guild
Registration: Please send an email to pres@sacreddanceguild.org with "PARAMJYOTI CAROLA STIEBER INTERVIEW" in the subject line and you will receive access to the interview, in which you are invited to ask questions as well.
19.07.
Cinema
Film Presentation
21.07.
Cinema 
Film Presentation
03.08.
Virtually There!
Sacred Dance Festival
Meeting with Paramjyoti online
Within the Sacred Dance Festival Paramjyoti will invite onto a 60 minutes mutual adventure:
She will describe how her poetic documentary Moving into the Infinite came to existence, and relate a few behind-the-scenes stories.  What caused her to shift from being a dancer to becoming a filmmaker? What was the motivation for the production and what was the driving force to follow through? 
Paramjyoti's film is a pilgrimage, both outward, into the world and inward, towards one's own heart. This modern fairytale points towards "the most intimate of all relationships" – – what might that be for each individual? Together with Paramjyoti we will embark on an inner discovery with meditation, listening to some of her stories, watching parts of her film and entering a dialogue. 
You can register by sending an email prior to the event to: pres@sacreddanceguild.org
Link onto the Festivalpage: sacreddanceguild.org/programs
Information and Registration for the entire festival: Sacred Dance Festival
02
.-04
.10.
Workshop and Gathering
Introduction and Practice of Whirling and Semaritual with Paramjyoti and international musician friends.  kientalerhof.ch
date follows…
Being – in Sema
& Film Screening
After the introduction to whirling and sema, some of us will move to Shantiunity. A gem for the soul in the Swiss Mountains. It invites to tune with nature, get calm and return inwards. We will have a spontanious gathering with Paramjyoti and musician friends. Accomodation is simple, 9 participants can register for sure, the rest can join -if the weather permits- with tents. You will pay and prepare your own food together with beloved Lorenzo, who is a professional cook! Accomodation and Sema is on donation base and outside of any organized event structure. A true meeting – in the heart! Date and length of this meeting will be announced soon…
22.11.
Dance offering
for a concert 
Paramjyoti will dance spontainously to different compositions of Marco Wolf´s new album "Deep water". Marco will play live and has invited another special guest. What an honor to get to gether and celebrate this occasion, on the tides of the heart…
Luzern, Kirche Maihof, Switzerland
4.45pm the door will open. 5pm will be the start of the concert.
Please register before coming at: klangspielhaus@gmail.com